Tag: raspberry
by zaion on Ott.25, 2012, under Hardware lab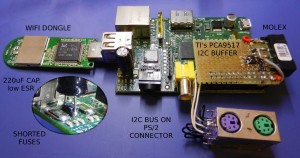 The Raspberry, a pretty interesting piece of hardware (half micro controller, half computer), is here used as a temperature sampler (via I2C sensor). The data collected is then employed  to draw a graph and send it to your e-mail account using wifi connection. All this is performed using only some useful open programs and a little bash scripting.
Commenti disabilitati

su R. Berry Bash
:i2c, raspberry, sensor, temperature
more...
by zaion on Set.03, 2012, under Hardware lab
Appena è arrivato il mio Raspberry-PI non vedevo l'ora di provarlo e giocarci ma solamente accenderlo si è rivelato più complicato del previsto.
Per evitare i comuni problemi di alimentazione ho alimentato il mio raspberry tramite i GPIO con un alimentatore ATX. Tensione ben stabilizzata e tanta corrente a disposizione (Oltre alla protezione da corto).
Ho acceso la scheda e ho provato a configurare una chiavetta wifi per potermi connettere da remoto. Il sistema operativo l'ha subito riconosciuta, caricato i driver e aggiunto la periferica. Ho configurato i parametri per connettermi al mio Access Point ma non ne voleva sapere di funzionare. Il listing delle reti rilevate funzionava saltuariamente e le poche volte che riuscivo a connettermi si sconnetteva da solo subito dopo lasciando questo strano messaggio su dmesg:
2 Comments
:access point, alimentazione, raspberry, wifi
more...