Tag: i2c
by zaion on Ott.25, 2012, under Hardware lab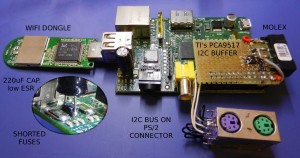 The Raspberry, a pretty interesting piece of hardware (half micro controller, half computer), is here used as a temperature sampler (via I2C sensor). The data collected is then employed  to draw a graph and send it to your e-mail account using wifi connection. All this is performed using only some useful open programs and a little bash scripting.
Commenti disabilitati

su R. Berry Bash
:i2c, raspberry, sensor, temperature
more...